Latest research from iGaming Tracker reveals the market share of casino providers on top 20 VS betting sites. 20 Best UK Casino Focused Websites.
The latest research from iGaming Tracker shows the market share of casino game providers in 20 of the top sports betting websites compared to 20 of the top casino-focused websites in the UK. By Ken Muir, Director, iGaming Tracker.
Market share is calculated as the length of time a provider plays in the top 25 positions of the main pages of websites. The size of the bubbles in the visualizations below corresponds to the respective market share of each supplier.
Playtech dominates for sports venues
Unsurprisingly perhaps, Playtech dominated the provider market share of betting sites and casino-only sites (pure play) during the period May 1 to May 31, 2017. However, its share was proportionately lower. on casino sites, while Swedish casino specialist NetEnt is just behind.
Playtech's dominance over UK betting sites is largely due to its exclusive tabs, which are featured on many of the UK's biggest sports betting sites.
If you remove these pages from the analysis, that is, analyze the "non-exclusive" pages, Playtech ranks 8th in sports and 4th on casino sites. These rankings are aided by the recent acquisitions of Quickspin and Eyecon by Playtech.
Brands owned by sports betting operators have a significant share
The growing share of "own brand" games on sports betting sites is gaining in importance.
Cayetano from Paddy Power Betfair, Core Gaming from Sky Bet and CR Games from Ladbrokes Coral all make the top 20 game providers, even looking at 20 sports websites as a whole. We will come back to this trend in more detail in a future article.
The composition of providers changes when you compare sports and casinos
Some providers have a larger market share on sports betting sites, some have a larger share on dedicated casino sites. IGT and Netent have a bigger stake in dedicated casino sites.
When you take out the exclusive Playtech pages on the betting sites and look at the non-exclusive pages, it is obvious that Blueprint Gaming has a larger share on sports sites compared to dedicated casino sites.
Some suppliers over-index in the first positions
The visualization examines the 25 most important playing positions on each main page of the sites. However, the mix changes if you look at all the positions in the game.
For example, when you look at the non-exclusive casino pages on sports betting sites, SG Interactive ranks third behind Blueprint Gaming in second. But if you look at all the positions, SG Interactive has a higher share of games than Blueprint Gaming.
Other game providers that over-index in the top positions are IGT and NextGen. The under-indexed game providers in the top positions are Microgaming and iSoftbet.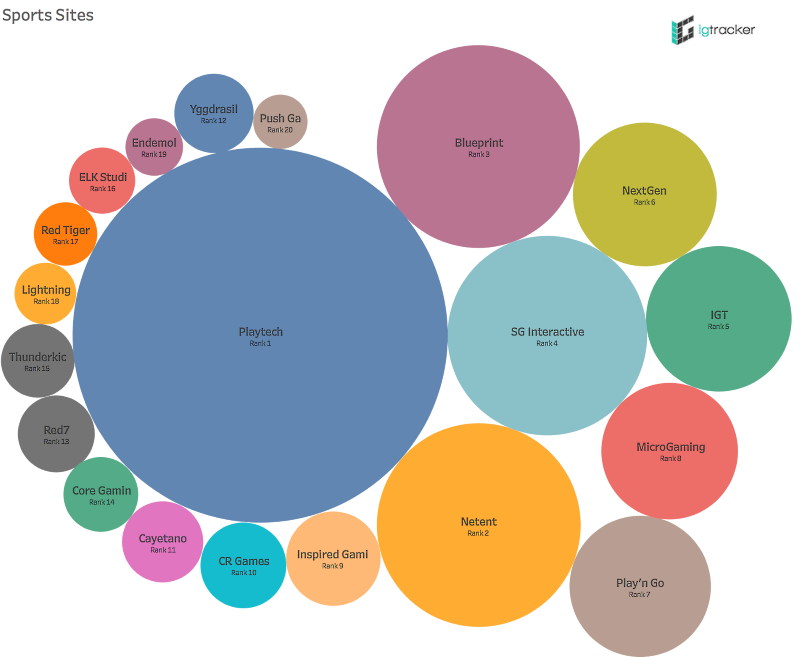 iGaming Tracker – how it works
iGaming Tracker tracks hundreds of casino sites around the world every day. From this data, it can assess which games are on which sites and where they are positioned on the pages. It can also measure the market share of casino game providers as a percentage or "real estate" on casino sites on a given date. For more information visit www.igamingtracker.com or send an email [email protected].
How the data was compiled
The website pages listed below were tracked daily from May 1 to May 31. If a site has several tabs (for example "Arcade" and "Vegas"), both pages are taken into account. "Table" games such as roulette are excluded from the analysis. The companies held are aggregated, for example Quickspin and Eyecon are combined with Playtech.
The analysis focuses only on the first 25 positions on each page. The sites are monitored every 24 hours. The pages monitored for this analysis were desktop pages only.
Tracked sites
Sports betting sites
10 stake
https://www.10bet.co.uk/casino/
https://www.10bet.co.uk/games/
Bet United Kingdom
https://www.betuk.com/
Bet365
http://casino.bet365.com/home/en/?groupid=Slots
http://vegas.bet365.com/home/en?groupid=Featured
https://games.bet365.com/home
Betfair
https://arcade.betfair.com/
https://casino.betfair.com/
https://vegasslots.betfair.com/
Betfred
http://www.betfred.com/casino
BetSafe
https://www.betsafe.com/fr/casino
BetVictor
http://www.betvictor.com/casino/en#category/featured/favourites
Bwin
https://casino.bwin.com/fr/casino/accueil
coral
http://www.coral.co.uk/casino/top-games
http://www.coral.co.uk/games/top-games
http://www.coral.co.uk/slots/top-games
Ladbrokes
http://casino.ladbrokes.com/en
http://slots.ladbrokes.com/en#/new-games
http://vegas.ladbrokes.com/en
Marathon bet
https://www.marathonbet.co.uk/en/casino/lobby?v=casino
My bet
https://www.mybet.com/fr/casino
NetBet
https://casino.netbet.co.uk
PaddyPower
http://casino.paddypower.com/
http://games.paddypower.com/
Sky bet
https://www.skybingo.com/games
https://www.skycasino.com/
https://www.skyvegas.com/
Sunbets
https://www.sunbets.co.uk/casino/
Titanbet
http://casino.titanbet.co.uk/
Unibet
https://www.unibet.co.uk/casino
https://www.unibet.co.uk/softgames
https://www.unibet.com/casino
William Hill
http://vegas.williamhill.com/
https://casino.williamhill.com/#!/
https://games.williamhill.com/
https://macau.williamhill.com/#!/
Winner
http://casino.winner.co.uk/casino
Casino sites
21.co.uk
https://www.21.co.uk/
32red
https://www.32red.com/
777
Casino http://www.777.com/
888 Casino
http://www.888casino.com/casino-games/slots/
BGO
https://www.bgo.com/casino
https://www.bgo.com/games
https://www.bgo.com/vegas
BGT
https://www.bgtgames.com/
Casumo
https://www.casumo.com/fr-fr/
Foxy Casino
https://www.foxycasino.com/
Gala Casino
https://www.galacasino.com/
https://www.galacasino.com/casino
Genting
https://www.gentingcasino.com/
Grosvenor Casino
https://www.grosvenorcasinos.com/
Leo Vegas
https://www.leovegas.com/fr#
Manor
https://play.mansioncasino.com/
Mr. green
https://casino.mrgreen.com/en-GB/
Pink casino
https://www.pinkcasino.co.uk/
Royal Panda
https://www.royalpanda.com/united-kingdom/
Slot Machine Boss
https://www.slotboss.co.uk/
Turn and win
https://www.spinandwin.com/
Genius of rotation
https://www.spingenie.com/
Star towers
https://www.starspins.com/viewgames/slots